Four Week Crane Operator Exam Preparatory Class & Certification
The objective of this program is to prepare Graduates to enter the industry as NCCCO Certified Construction Crane Operators. Students prepare to become certified as operators of Hydraulic Boom Mobile Cranes. Successful graduates will earn six NCCCO Certifications. NCCCO Exams take place during the course and will include five (5) Written & four (4) Practical Certification tests. Passing these exams results in the following six NCCCO Certifications:(TSS) Fixed Cab Hydraulic Crane, (TLL) Swing Cab Hydraulic Crane, (BTF) Boom Truck Fixed Cab Crane, (STC) Service Truck Crane, Rigger Level 1, and Signalperson Certification. Additionally, graduates will also obtain their OSHA 10 Hour Construction card from the U.S. Department of Labor.
Financing Available 
NCCCO Mobile Crane Workshop
Crane Operator classes prepare students for the written exams required for NCCCO certification. This four-day course will include: a three-day preparation class, written and practical examinations. For a full explanation of the NCCCO testing process and requirements for testing, the "Candidate Handbook" can be downloaded at www.nccco.org
NCCCO Articulating Boom Cranes Workshop
Colorado Crane Operator School is now offering complete safety training and NCCCO certification testing on Articulating Boom Cranes. These classes consist of a one-day prep workshop and a second day of testing to include written exams and practical testing on the machine. This training and testing can be conducted at our facility or yours and like all of our other training courses, it is available Nationwide. Give us a call for more information and pricing. Articulating cranes and loaders represent a large and growing proportion of cranes in use today, but until now operators had no independent means to demonstrate that they know how to operate these specialized cranes safely and effectively. Covering both articulating boom cranes and articulating boom loaders, this new program directly addresses a need identified by industry. Articulating boom cranes with a winch, and/or articulating boom loaders (also known as "material handlers" or "wallboard cranes"). The written examinations, which may be taken before or after the practical test, are also now available for administration at approved NCCCO written exam test sites.
Register Now
NCCCO Service Truck Workshop
The NCCCO Service Truck Crane Operator certification (STC) is a subcategory of the CCO Telescopic Boom—Fixed Cab certification (TSS). Industry leaders asked the NCCCO to create guidelines specifically for these types of cranes so that operators across the country would be held to a uniform level of competency. Current TSS certification covers the use of service truck crane operation. Which means any operator holding TSS certification won't have to undergo additional training. However, STC certification is not reverse compatible—STC certification is only intended for and applicable to operators of Service Truck Cranes. Any manipulation, support, or maneuvering of the deliverable that aids—in any way—the process of construction (such as dropping an HVAC unit on a roof or hoisting ceiling joists to the second floor of a structure) requires that the operator of the STC be certified or risk OSHA sanctions. This is a three day workshop.
NCCCO Digger Derrick
Colorado Crane Operator School offers complete safety training and NCCCO certification testing on Digger Derrick Cranes. This class consist of a one-day prep workshop and a second day of testing to include written exams and practical testing on the machine. This training and testing can be conducted at our facility or yours and like all of our other training courses, it is available Nationwide. Give us a call for more information and pricing.
NCCCO Certified Rigger/Signalperson
Colorado Crane Operator School' Rigger and Signal Person Preparatory Training program is specifically designed to prepare candidates who currently work in lifting operations, for the successful completion of NCCCO Written and Practical examinations and certification. This three-day program includes study material, as well as interactive classroom and hands-on exercises that emphasize all parts of the NCCCO examinations.
Qualified Rigger & Signalperson
This class covers the basic fundamentals and laws, ASME B30.9 slings, ASME B30.26, ANSI A10.42, OSHA 1926.1400. This class will cover the four principles of rigging: knowing the weight, sling selection, retention and control. This training is intended to meet the requirements of OSHA Subpart CC, Crane Standard and covers rigging principles, selection, use and care of rigging equipment as well as other laws and standards that apply to rigging. Signalperson training covers hand and voice signals, functions and limitations of cranes that Signalpersons need to know in order to effectively signal crane operations, and more.
Mini Crawler Crane Operator
A  mini-crawler crane is a crane that has been designed and built for working in low access confined areas either indoors or outdoors. It is mounted on a dual track chassis with "spider-type" legs for its outriggers.
Mini-crawler cranes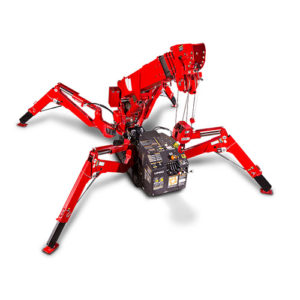 are revolutionizing many industries by offering a flexible and versatile crane that while strong enough to lift up to 6.6 tons, can be used where a conventional truck mounted crane or carry deck crane will not have access due to its size.
*This class involves both classroom and hands on training, on a Mini Crawler Crane. For the hands on portion, attendees will be required to wear all normal job site PPE, hard hat, safety glasses, gloves and work boots.*
In this two day class the participant will learn:
Pre-Inspection
Post inspection
Load charts
Set up/Tear Down
Ground Conditions
Work around Power Lines
Safety devices
Crane and Safety Awareness
This 8 hour course designed to help employers teach those working with and around cranes how to be safe. Offered in a classroom setting, attendees will receive instruction and multimedia presentations regarding safe work practices including the dangers of working directly under a load, not approaching the blind side of crane equipment, pinch points and caught between hazards. This course will include interactive hands on awareness training, so students are familiar with components, practices and procedures.
Overhead Crane Safety Awareness
Any personnel involved with overhead cranes will benefit from this class. This 8-hour course is a combination of classroom and hands-on instruction that ensures maximum learning. Students will acquire a working knowledge of: OSHA, CMAA, ANSI/ASME B30 and ANSI/ASME P30 regulations, pre-operational inspection requirements, operator responsibilities, hoist and crane components and their functions, identifying unsafe situations, basic rigging, hand signals.
Supervisor Crane Safety & Rigging
This one-day course is intended for safety directors, supervisors, foremen, and all who are wanting to strengthen their knowledge in the crane industry. We offer the most Comprehensive information on a variety of topics with hands on training. This 8-Hour class will cover: Operator requirements and responsibilities, Safe operating procedures, Pre-operational inspection and checklist, preparing for a critical lift, two or more cranes involved in the same lift, OSHA standard hand signals, voice signals, audible signals and special hand signals, pre-site inspection, controlling entity requirements, basic rigging principles, structural vs stability capacities, load charts, and more.
eLearning
We are currently developing an eLearning program for crane safety training. Please check back for updates.