Spider Crane Operators- Are your people qualified to operate this new technology?
March 01, 2017 | Cranes
Certified Vs. Qualified
Starting in November of this year the OSHA law mandating operator qualification or certification takes effect. As of the writing of this blog, OSHA is still in discussions about whether certified also means qualified. In 2013, I testified at the Department of Labor on Capitol Hill on behalf of industry in regards to the new OSHA Cranes and Derricks in Construction standard. During that hearing, OSHA was decidedly in the opinion that certification did not also mean qualification. When we talk about Spider cranes this line of thinking makes perfect sense. There is not a Spider crane certification that is currently offered by any of the nationally accredited certifying entities. After some research, none of these certifying entities have plans to offer this certification in the near future.
 If , Then
So what does OSHA want employers to do when a certification does not exist for Spider cranes? "If no accredited testing agency offers certification examinations for a particular type and/or capacity of equipment, an operator will be deemed qualified to operate that equipment if the operator has been certified for the type/capacity that is most similar to that equipment and for which a certification examination is available." 
The crane type that is closest to resembling a Spider crane is a Boom Truck with a fixed operator cab. From an operator point of view, these two cranes have very little in common. When you look at the load charts and quadrants of operation, they have nothing in common. The most popular spider crane on the market has 52 possible outrigger positions, a typical boom truck has 2. Along with all those various outrigger positions comes a slew of areas that the operator cannot operate or the machine may over turn. An operator that was trained and certified on a boom truck could easily misread this chart.
"it fills the gap between what OSHA mandates, what certification providers offer, and what your operator really needs to do his job safely."
Get Your Operators Qualified
Regardless of what OSHA decides in regards to the Certified Vs. Qualified language, employers need to get their operators trained specifically on the type of equipment that they will be operating. The Colorado Crane Operator School offers this training specifically for Spider cranes. The operators will spend two full days learning the safe practices of Spider cranes.
Day one is spent in the classroom working on: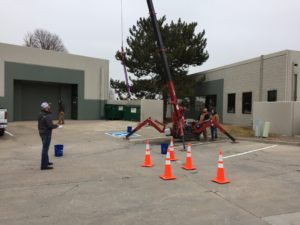 Pre-Inspection
Post inspection
Load charts
Set up/Tear Down
Ground Conditions
Day two is spent hands on operating the crane:
Set up
Travel
Tear down
Operation through a slalom course
The class is comprehensive, and most importantly, it fills the gap between what OSHA mandates, what certification providers offer, and what your operator really needs to do his job safely.